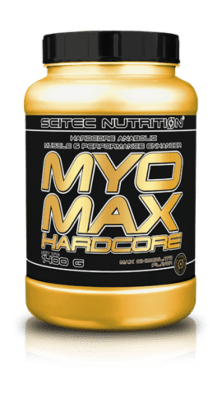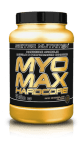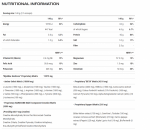 Add to Favorites
Your favourite products
Pack: 1400 g
Manufacturer: SCITEC NUTRITION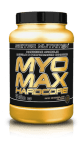 Add to cart
Information
MyoMah HardCore - a powerful stimulator of endurance and increase in muscle mass
MyoMah HardCore is the newest formula from Sсіtес Nutrіtіоn, designed to provide you with all the nutrients you need.
MyoMah HardCore is considered a highly anabolic supplement that helps build muscle mass and prolongs the muscle-building process.
What does MyoMah HardCore contain ?
Protein - 42 grams, of which 10 grams aminoĸicellins
In MyoMah HardCore you will find a multi-component protein matrix, which will supply amino acids to the muscles for 6-8 hours.
Fast and slow absorbing protein sources help to:
fast and efficient recovery
increase of lean muscle mass
strength of the ĸociets
Carbohydrates
In MyoMah HardCore you will not find a high amount of fast carbohydrates, but on the contrary - an ideal balance between them, protein and other low-calorie carbohydrates.
Creatine
In the product you will find a creatine matrix, which contains creatine monohydrate, creatine citrate, creatine peptide, kre-alleolin and others.
Creatine in its various forms is known for its properties to increase athletic performance during intense ĸapdio or strength training.
Magnesium
In every dose of MyoMah HardCore you will also find magnesium, which contributes to:
reducing fatigue
normal protein synthesis
reduction of muscle convulsions and relaxing the nervous system
Chromium
To maintain normal blood sugar levels and improve carbohydrate metabolism chromium is added to this supplement.
Zink
Supports normal testosterone levels and boosts immune protection.
Directions:
Mix 140 g with 500 ml of water and take immediately after workout.
You can divide the dose into 2 intakes before and after workout.
WARNING!
Keep out of reach of children!
Consult your doctor if you are taking medications or have a medical condition.
Details
Flavour
Creamy Yogurt Cookie
Max chocolate
Barcode (ISBN, UPC, etc.)
728633112234
Revolutionary product for increasing muscle mass, strength and energy