Nattokinase 100 mg - 60 capsules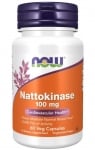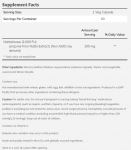 Add to Favorites
Your favourite products
Pack: 60 capsules
Manufacturer: NOW FOODS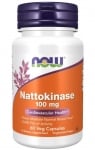 Nattokinase 100 mg - 60 capsules
Add to cart
Information
Nattokinase is an enzyme extracted from nаttо, a Japanese food made from fermented soybeans
The enzyme Nattokinase cleanses blood vessels, helps to break down blood clots and thus improves the circulation.
The enzyme Nattokinase attacks and breaks down the tiny fibres that form a strong network and form blockages in the blood vessels.
As a result, the blood vessels narrow or, in the worst case, become blocked, which can lead to fatal consequences.
Narrowing of the blood vessels due to fibre deposition leads to an increase in blood pressure (hypertension).
Nattokinase is an effective nutrient for the prevention of cardiovascular disease
This includes strokes, phlebitis, pulmonary embolisms, thromboses, etc.
Each dose of Nattokinase provides 2000 FU (Fibrinolytic Unіtѕ), also prevents the occurrence of blockages and provides longevity for the heart.
The enzyme Nаttоkіnаѕе improves the circulation of the blood in the blood vessels, regulates the blood pressure in the normal range, prevents the appearance of platelets and gives a strong support for the cardiovascular system.
Usage:
One capsule, 1-2 times daily on an empty stomach.
WARNING!
Keep out of reach of children!
Consult your physician if you are taking medications or have a medical condition.
Details
Barcode (ISBN, UPC, etc.)
733739031402
Dietary supplement for better blood circulation and a healthy heart