Omega 3 Enteric Coated - 90 softgels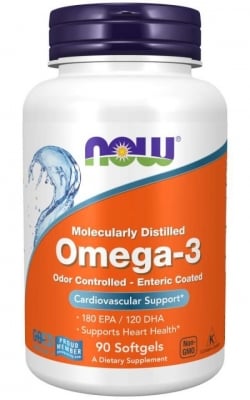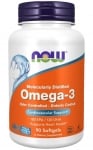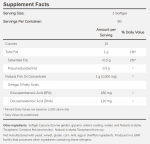 Add to Favorites
Your favourite products
Pack: 90 softgels
Manufacturer: NOW FOODS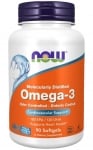 Omega 3 Enteric Coated - 90 softgels
Add to cart
Information
The Omega 3 Enteric Coated product of NOW is an exporter of fatty acids, with neutralized fish odor and better absorption.
Omega-3 is a complex of essential polyunsaturated fatty acids, with an exclusive beneficial effect on the cardiovascular system.
They are an excellent tool for successful prevention in atherosclerosis and heart attack.
They are precursors of prostaglandins (a group of lipid physiologically active substances), which help to lower high blood pressure, migraines, headaches, arthritis, etc.
Health benefits of taking Omega-3
Omеgа-3 participates in a number of positive processes for the brain and nervous system, enhances memory and contributes to heart health, joint mobility, participates in the construction of protein membranes and metabolism of blood sugar.
The raw material of Omega-3 in the NоW Fооdѕ products has been specifically tested for the presence of hazardous substances and heavy metals such as lead.
In this case you will receive only pure and highly potent raw material without fearing for your health.
With special technology, this oil is encapsulated in dragees, which are sealed and protect the oil from oxidation and decomposition.
Usage:
One dragee 1-3 times daily.
WARNING!
Keep out of reach of children!
Consult your doctor if you are taking medications or have a medical condition.
Details
Barcode (ISBN, UPC, etc.)
733739016560
Fish oil dragees for optimal health of the cardiovascular system, brain, immunity, etc.