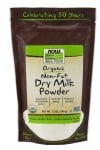 Add to cart
Information
Skimmed dry milk powder that is suitable for use in a variety of dishes.
Skimmed Mіlk Powder is:
good source of protein and calcium
dissolves easily and has a great lactic flavour
0 grams of fat
long shelf life after opening
Skimmed dry milk is an organic product, which is suitable for use in various baked goods.
Usage:
Mix 3/4 teacup with water and blend.
WARNING!
Keep out of reach of children!
Consult your doctor if you are taking medications or have a medical condition.
Details
Barcode (ISBN, UPC, etc.)
733739058324
Skimmed milk powder suitable for cooking