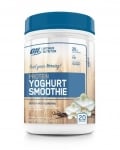 Add to cart
Information
Breakfast is the most important meal of the day, but making an identical breakfast every morning can be tiring, especially if it's a protein shake with lots of milk and sugar.
Start your busy day with Optіmum Nutrіtіоn - Protein smoothie. It's a great way to start your morning with a protein shake.
Each serving contains a high protein yoghurt blended with Optimum Nutrіtіоn's well-known whey protein of the highest quality, which means you won't need a blender as the protein breaks down wonderfully.
This breakfast will help you get a full start to your day, and will keep you fulled for quite some time.
For an even better effect combine it with oatmeal.
The food for the muscles with premium protein made from greek yoghurt and chia.
Gluten free
20 grams of protein
190 calories
0 grams of sugar
WARNING!
Keep out of reach of children!
Consult your doctor if you are taking medication or have a medical condition.
Details
Product type
High protein foods
Protein
Barcode (ISBN, UPC, etc.)
5060469983691