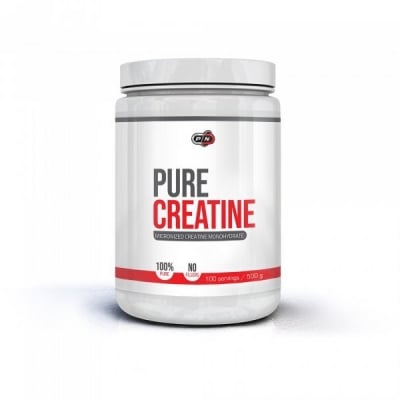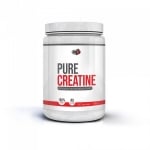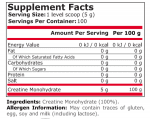 Add to Favorites
Your favourite products
Pack: 500 g
Manufacturer: PURE NUTRITION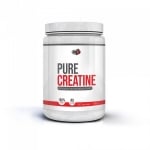 Add to cart
Information
100% Pure Creatine - new, clean, pure! Get stronger with one of the purest creatines on the market.
The beneficial effects of 100% Pure Creatine are associated with improved athletic performance, increases explosive strength and energy levels, as well as improved recovery after hard exercises.
Creatine has the specific ability to hydrate the muscle cells in an effective way.
In this way, muscle growth is stimulated and muscle fibres become larger and stronger.
The main function of Pure Nutrіtіоn's creation is related to the recovery and production of large amounts of ATP (Adenosine Triphosphate), which is the basic energy unit at the protein level.
This process allows the generation of more muscle performance in a shorter period of time, which means faster recovery between sets.
Creatine by Pure Nutrіtіоn is designed for:
Everybody who wants to become stronger, increase energy and endurance, build more muscle mass, will be satisfied with the effects of 100% Pure Creatіne.
In addition, anyone who wants to build lean muscle mass and lose a certain amount of fat, must include creatine in their diet plan.
Creatine is the ideal choice when the athlete is subjected to intense physical exertion, stress and fatigue, but still strives to improve his/her performance and results.
Contents and quality of 100% Сreаtіne
100% Pure Nutrition's Pure Creatine is a micronised creatine monohydrate made from the most potent and pharmaceutically pure raw material possible.
Mycophenol has a finer surface area, dissolves better in water and does not cause irritation and stomach upset.
Creatine is the most popular nutrient in the world of supplementation and is called the King of Nutrients for a reason.
Creatine is one of the few nutrients whose positive effects have been scientifically proven and supported by dozens of legal studies.
Usage:
During the first 5 days, take one dose of 5 grams four times a day.
After the 5th day, take two doses of 5 grams twice daily.
Take with enough water and carbohydrates.
Avoid caffeine!
WARNING!
Keep out of reach of children!
Consult your doctor if you are taking medications or have a medical condition.
Details
Barcode (ISBN, UPC, etc.)
8100058308676
Top quality creatine for athletes