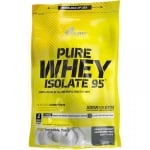 Pure Whey Isolate 95 - 600 g
Add to cart
Information
What is the advantage of whey isolate over other types of protein?
Isolate is considered to be the purest and most rapidly digestible form of protein.
Unlike the other types - whey protein, caseine and milk protein - it does not contain lactose, hence its name.
This pure protein does not irritate the stomach and is suitable for people with milk intolerance.
It is absorbed very quickly and restores muscles immediately.
The absorption of whey protein isolates is at least 90%, which makes it more effective than all other protein powders.
Pure Whey Isolate 95 contains only pure whey isolate, which is specifically designed to deliver the protein every active athlete needs.
Its formula is suitable for people, who:
are sports active
have a need for fast and effective recovery
wish to maintain a clean muscle mass
want to reduce fat
have intolerance to lactose
insist on health and good health
Pure Whey Lysolate 95 dissolves instantly in water and is easy to reconstitute.
Directions for use:
Take 1 to 3 doses daily dissolved in 200 ml of water - 1 dose = 30 g = 3 scoops.
The whey isolate is suitable for intake at all times of the day, but especially before and after exercise, and in the morning after waking up.
WARNING!
Keep out of reach of children!
Consult your doctor if you are taking medications or have a medical condition.
Details
Flavour
Chocolate
Strawberry
Vanilla
Product type
Muscle mass building
Protein
Barcode (ISBN, UPC, etc.)
5901330038426
Whey isolate powder for gaining muscle mass.