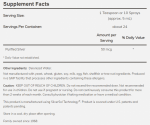 Add to Favorites
Your favourite products
Pack: 113.6 ml
Manufacturer: NOW FOODS

Add to cart
Information
What is Silver Sol ?
This is a specific product manufactured by NоW Fооdѕ in the USA using the Silvеr Solеr Tесhnоlоgу.
This technology is very different from those used to produce ordinary silver.
This unique, patented solution has been the subject of a great deal of scientific interest because of the innovation and high bioavailability of the silver used.
What does Silver Sol contain ?
The product consists solely of the element silver, with a concentration of 10 parts per million and fully purified water.
Silver Sol has neither odor nor flavour, which makes it unobtrusive in use.
Silver Sol is a potent antiviral and antibacterial agent
Silver sol acts as a strong disinfectant and is used very successfully against external infections.
The beneficial effects of the use of the product are immune system boosting and antiviral effects.
Usage:
Adults: 6 puffs, 2-3 times daily.
Children: 4 puffs, 1-2 daily.
WARNING!
Keep out of reach of children!
Consult your physician if you are taking medications or have a medical condition.
Details
Barcode (ISBN, UPC, etc.)
733739014078
Silver sol, which has powerful antiviral and antibacterial effects.