Sunflower Lecithin 1200 mg - 200 softgels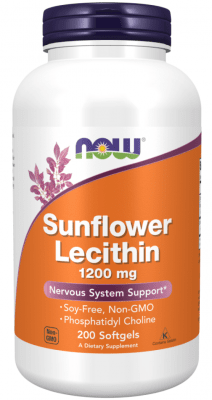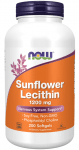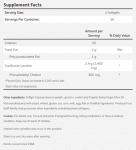 Add to Favorites
Your favourite products
Pack: 200 softgels
Manufacturer: NOW FOODS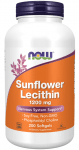 Sunflower Lecithin 1200 mg - 200 softgels
Add to cart
Information
Why take Sunflower Lecithin?
Sunflower Lecithin is an original solution for your health, without worrying about low-quality products or products that have long been marked with the scar of genetically modified products.
It is known that not only soybeans are subject to genetic modification, but many other seeds as well.
However, sunflower seeds have not yet been subjected to gene modification and this makes them one of the best sources of fatty acids.
Sunflower Lecithin is a great choice for allergic diseases.
Nine food groups are to blame for 90% of allergies, sunflower does not fall into any of them.
Sunflower Lecithin is the best possible source of vegetable lecithin that can be found on the food market.
It has additional advantages such as lack of odour, neutral taste, high phosphatidyl choline content, low linoleic acid content, which also means greater stability in absorption.
Sunflower Lecithin supports the maintenance of the nervous system and brain function.
This is due to the fatty acid Phosphadityl choline, which makes up a large part of the brain and nervous system.
In addition, Sunflower Lecithin is rich in the fatty acids Phosphadityl Inositol and Phosphadityl Ethanolamine.
Directions:
Take 2-3 teaspoons daily with food.
WARNING!
Keep out of reach of children!
Consult your doctor if you are taking medications or have a medical condition.
Details
Barcode (ISBN, UPC, etc.)
733739023131
Sunflower lecithin, helps maintain the nervous system and brain functioning