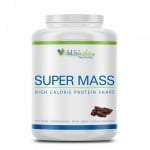 SUPER MASS - chocolate - 3000 g
Add to cart
Information
SUPER MASS is a carbohydrate supplement specially developed to facilitate the building of mass, strength and energy.
Carbohydrates are the main energy source for the body. The combination of fast and slow carbohydrates in SUPER MASS makes it the ideal energy source that will fuel you all day long.
SUPER MASS combines the essential ingredients for building muscle mass, namely:
Carbohydrates
Whey Protein
In order to ensure only pure muscle mass, without fat, no fat is contained in SUPER MASS.
Gainers are suitable for intake after or between main meals in order to increase the total number of calories consumed.
SUPER MASS has a mild and pleasant chocolate taste, easy solubility and impeccable composition.
Usage:
One dose (100 g - 4 scoops) dissolved in 200 ml of water or milk.
Drink after a nap and between main meals.
You can add banana or peanut butter to make your shake more nutritious.
WARNING!
Keep out of reach of children!
Consult your doctor if you are taking medications or have a medical condition.
Details
Barcode (ISBN, UPC, etc.)
3800234190174
A top-class carbohydrate product for increasing muscle mass and strength