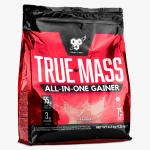 True Mass 1200 BSN - 4730 g
Add to cart
Information
The product is designed for people who find it difficult to gain weight or people who want to add extra volume and mass to their figure.
The product is designed to give your body enough calories and energy to increase your muscle mass, to replenish your body with high amounts of amino acids for a long period of time.
With this product you provide yourself with a better recovery, an ideal source of nutrients suitable as a meal replacement and better self-esteem.
True Mass optimizes protein synthesis and anabolism, has added enzymes to increase the amount of protein absorption, with it you will recover twice as fast and effective after each workout - ready for the next.
Unlike many other gainers, True Mass doesn't contain hormones, stimulants, creatine or aspartame.
Its formula is all-natural, enriched with BCAA's and essential amounts of all other aminos for muscle growth.
What does True Mass contain?
Ultra filtered whey protein extract
Incredibly rich in alpha-lactalbumin
Alpha and beta caseines
Micro filtered whey isolate with high dozes of peptides
Egg albumin
Calcium caseinate
Milk protein concentrate
Directions for use:
3 scoops - 1 before and 2 after the meal, or as a separate meal.
By using TRUE MASS you guarantee yourself a meal enriched with high quality proteins needed for your body not to stop growing even for a moment.
WARNING!
Keep out of reach of children!
Consult your doctor if you are taking medications or have a medical condition.
Details
Flavour
Chocolate
Strawberry
Vanilla
Barcode (ISBN, UPC, etc.)
5060245603539
High calorie powdered food.