Vitamin A & D 10000/400 IU - 100 softgels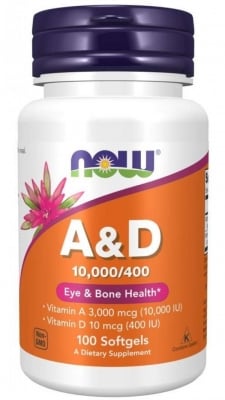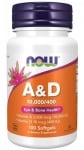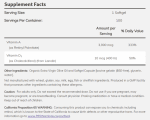 Add to Favorites
Your favourite products
Pack: 100 softgels
Manufacturer: NOW FOODS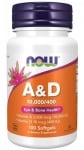 Vitamin A & D 10000/400 IU - 100 softgels
Add to cart
Information
A&D is a combination that combines the two vital and fat-soluble vitamins
In synergy they mutually enhance their absorption and action.
Vitamin A occurs in nature in two forms.
One is pre-formed vitamin A (retinol), the other is carotine (also known as provitamin A).
There is also beta-carotine, a biologically more active form of carotine.
Since Vitamin A supports the recovery of tissues, it is extremely important for athletes (and not only for them).
Vitamin A improves eyesight or, more precisely, the lack of it, worsens eyesight. Also, it improves the immune system by supporting the action of lymphocytes.
Vitamin D is synthesized mainly by exposure to sunlight.
The main function of Vitamin D is to regulate the absorption of calcium and to ensure that calcium reaches the blood cells.
Vitamin D deficiency leads to a decrease in the density and strength of bones.
Directions:
One dragee with food, daily.
WARNING!
Keep out of reach of children!
Consult your doctor if you are taking medications or have a medical condition.
Details
Product type
Immunostimulants
Vitamins and minerals
Barcode (ISBN, UPC, etc.)
733739003508
Combination of vitamins A and D for daily intake