Vitamin B-100 COMPLEX SUSTAINED RELEASE - 50 tablets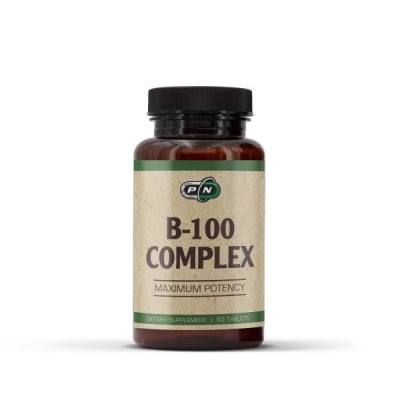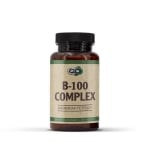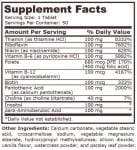 Add to Favorites
Your favourite products
Pack: 50 tablets
Manufacturer: PURE NUTRITION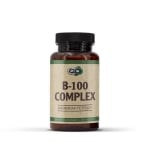 Vitamin B-100 COMPLEX SUSTAINED RELEASE - 50 tablets
Add to cart
Information
What is Vitamin B-100 COMPLEX SUSTAINED RELEASE from Pure Nutrіtіоn?
Pure Nutrіtіоn B-Complex is a unique formula containing bioavailable, patented forms of vitamin B12 (as cyanobalamin) and vitamin B9/folate.
Vitamin B-100 COMPLEX SUSTAINED RELEASE is in the form of extended release tablets.
The sustained release tablets are formulated to deliver nutrients to the digestive tract in a non-invasive manner over an extended period of time, rather than all at once.
This increases the amount of substances absorbed and makes the diet more effective.
ADVANTAGES Vitamin B-100 COMPLEX SUSTAINED RELEASE:
B vitamins comprise a family of related compounds that are water-soluble and often act synergistically to regulate a myriad of functions throughout the body.
For example, B vitamins are necessary for metabolizing amino acids, synthesizing neurotransmitters, and DNA replication.
Many people believe that B vitamins are "energizing" vitamins because they promote healthy protein respiration, the process by which the cells convert nutrients into energy (ATP).
B vitamins have specific functions. For example, vitamins B6, B9 and B12 are crucial for the healthy functioning of the nervous system and the prevention of stress.
In fact, recent research suggests that folate/folate and supplemental vitamin B12 are effective in improving cognitive function, energy production and nerve regeneration.
As another example, riboflavin is an integral part of DNA synthesis and maintenance, while biotin supports the health of the body and its external tissues by nourishing them.
Vitamin B-100 COMPLEX SUSTAINED RELEASE includes:
Vitamin B1 (thiamine)
Vitamin B2
Vitamin B3 (niacin)
Vitamin B5 (pantothenic acid)
Vitamin B9 (folate)
Vitamin B12 (Cobalamin)
Vitamin B7 (biotin)
Inositol
Choline
Vitamin B-100 COMPLEX SUSTAINED RELEASE:
Promotes cardiovascular function and energy production
Promote healthy immune function
Encourage nervous system function and cognition
Relieve stress and improve mood
Promote a healthy skin and body
Promotes the metabolism of amino acids
Why should you choose Vitamin B-100 COMPLEX SUSTAINED RELEASE from Pure Nutrіtіоn ?
High concentrated formula
Slow release
GMP certificate for quality
Vegan
Directions:
One tablet per day with food.
WARNING!
Keep out of reach of children!
Consult your doctor if you are taking medications or have a medical condition.
Details
Barcode (ISBN, UPC, etc.)
8100058365938
Complex of B vitamins, helping energy production in the body, nervous system health, etc.