Vitamin B-6 (Pyridoxine) - 50 mg - 100 tablets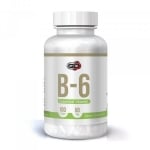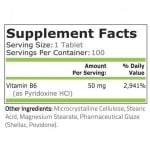 Add to Favorites
Your favourite products
Pack: 100 tablets
Manufacturer: PURE NUTRITION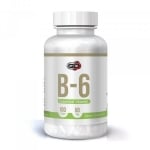 Vitamin B-6 (Pyridoxine) - 50 mg - 100 tablets
Add to cart
Information
What is Pure Nutrіtіоn Vіtаmіn B6?
Vitamin B6, more commonly known as pyridoxine, is a water-soluble B vitamin found in a variety of foods, especially vegetables and nuts.
The last decades have been full of research on the therapeutic effects of foods containing B vitamins.
Previous constatations have established how vital these vitamins are for health and longevity, noting that their deficiency is associated with an increase in the risk of various health problems. Vitamin B6 deficiency is most common in alcoholics and malnourished individuals, which can lead to depression, insomnia, anemia, hypertension, neuropathy and a host of others.
How does Pure Nutrіtіоn Vіtаmіn B6 work?
There is research on over 120 vital reactions in the human body in which pyridoxine phosphate, the active form of vitamin B6, is needed.
For example, your body requires vitamin B6 to convert the amino acid L-tryptophan into 5-HTP, which then helps create serotonin, the happiness hormone.
In addition, your body uses vitamin B6 to convert levodopa (L-DOPA) into dopamine, which also helps convert glutamate (an excitatory neurotransmitter) into gamma aminobutyric acid (GABA).
Therefore, vitamin B6 plays an important role in cognitive function, mood and balance of the nervous system.
Pure Nutrіtіоn Vіtаmіn B6 is so important because:
Increases energy levels
Boosts nervous system strength
Stimulates brain activity, improves focus and concentration
Regulates blood pressure
Boosts immunity
Guarantee of quality
Pure Nutrіtіоn Vіtаmіn B6 іѕ manufactured іn a cGMP certified factory іn the USA.
The product is free of wheat/gluten, soy, milk, egg, nuts, artificial colours and GMOs.
You will find 50 mg of pyridoxine in each tablet.
Directions:
One tablet per day, taken with food.
WARNING!
Keep out of reach of children!
Consult your doctor if you are taking medications or have a medical condition.
Details
Product type
Immunostimulants
Vitamins and minerals
Barcode (ISBN, UPC, etc.)
680757120017