Vitamin B-7 (Biotin) 10 000 mkg - 90 capsules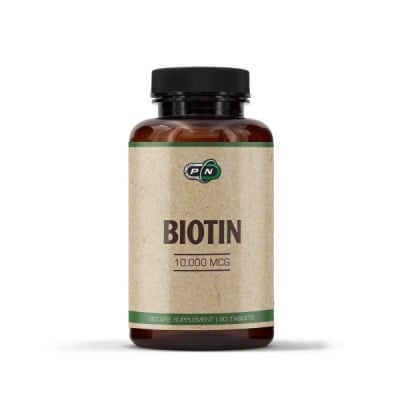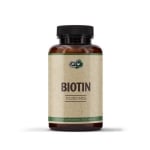 Add to Favorites
Your favourite products
Pack: 90 tablets
Manufacturer: PURE NUTRITION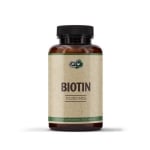 Vitamin B-7 (Biotin) 10 000 mkg - 90 capsules
Add to cart
Information
What is Vitamin B-7 (Biotin) 10,000 mcg from Pure Nutrіtіоn ?
Biotin, or vitamin B7, is a water-soluble vitamin that is part of the vitamin B complex, a group of fluid nutrients necessary for healthy metabolic, nervous, digestive and cardiovascular funcitons.
Biotin acts as an enzyme in the body that is necessary for the metabolism of fatty acids, amino acids and glucose.
This means that when we eat foods that are sources of fats, proteins and carbohydrates, biotin - also called vitamin B7 - must be present to convert and use these nutrients.
Biotin is known for its role in maintaining the health of our hair, nails and skin.
Vitamin B7 is usually added to the diet, although it is not thought to be absorbed very well through the skin.
Health benefits of taking vitamin B7:
Supports healthy hair, nails and skin
Boosts metabolism
Other health benefits of taking biotin are:
May improve glucose intolerance
Promotes brain function and fights cognitive decline
Helps maintain a healthy cardiovascular system
Supports thyroid and adrenal function
Necessary for building and restoring tissues and muscles
Foods rich in biotin:
Liver
Eggs
Yeast
Salmon
Cheese, especially goat cheese
Avocado
Raspberries
Cauliflower
Why choose VITAMIN B-7 (VlOTlN) 10,000 mcg from Pure Nutrіtіоn ?
High concentration in dose - 10,000 mcg
GMP certificate for quality
GMO-free
Directions:
Take 1 tablet 1 to 2 times a day with food.
WARNING!
Keep out of reach of children!
Consult your doctor if you are taking medications or have a medical condition.
Details
Barcode (ISBN, UPC, etc.)
8100058359548
Biotin for healthy hair, skin and nails. Vitamin of group B.