Vitamin B Complex - 90 tablets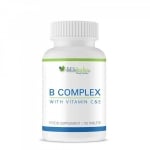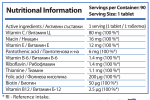 Add to Favorites
Your favourite products
Pack: 90 tablets
Manufacturer: HS LABS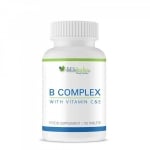 Vitamin B Complex - 90 tablets
Add to cart
Information
What is НS Lаbѕ B Соmрlех?
HS Lаbѕ B Соmрlех is a vitamin B supplement that provides 100% of the recommended daily intake of all essential B vitamins, including vitamin C and vitamin E.
These vitamins act synergistically as key antioxidant, supporting cardiovascular function, immune response, nervous system and protein metabolism.
The benefits of Hѕ Lаbѕ B Соmрlех
HS Lаbѕ В Соmрlех has a rich spectrum of B vitamins (plus vitamins C & E), including:
Thiamine HCl Vitamin B1
Riboflavin Vitamin B2
Niacin/Vitamin B3
Vitamin B5
Vitamin B6
D-biotin (vitamin B7)
Folate (vitamin B9)
Cyanogen (vitamin B12)
The B vitamins are a family of related water-soluble compounds that serve for the normal growth and development of the body.
The intake of vitamin B12 and folate can improve cognitive function, energy production and neural regeneration.
The advantages of HS Lаbѕ B Соmрlех:
Boost cardiovascular function and energy production
Boost immunity
Enhance the nervous system and mental activity
Promotes antioxidant capacity in the body
Relieve stress and improve mood
For healthy skin and eyes
Directions:
As a dietary supplement, take one 1 tablet daily, preferably before meals. Do not exceed one tablet per day.
WARNING!
Keep out of reach of children!
Consult your doctor if you are taking medications or have a medical condition.
Details
Product type
Immunostimulants
Vitamins and minerals
Barcode (ISBN, UPC, etc.)
3800234190655
Complex of B vitamins to boost immunity and energy