Vitamin C-1000 Complex - 90 tablets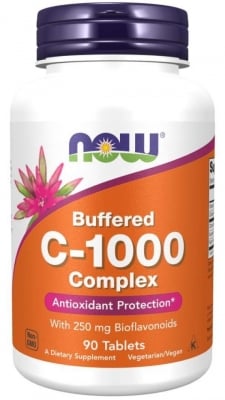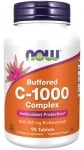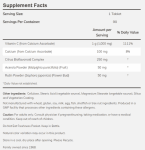 Add to Favorites
Your favourite products
Pack: 90 tablets
Manufacturer: NOW FOODS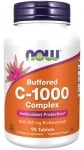 Vitamin C-1000 Complex - 90 tablets
Add to cart
Information
We offer you Vitamin C Complex from Nоw Fооdѕ
Vitamin C is a water-soluble nutrient known for its key role in our immune system.
In addition, Vitamin C is necessary for the production of collagen (a structure protein in connective tissue), therefore it is also important for the health of the skin, bones and joints.
Vitamin C is used by the body in the metabolism of amino acids and the absorption of many nutrients such as folate (Vitamin B9) and iron.
Vitamin C is a very effective antioxidant, it protects cells and molecules in the body from free radicals and harmful oxygen molecules, which are the result of metabolism or the influence of the environment.
C-Comрlеx contains Calcium Ascorbate, buffered form of Vitamin C
This form of the vitamin has a high biological value and is not acid. Product C-Complex is enriched with Bioflavonoids, which act synergistically with Vitamin C and improve its absorption.
Directions:
WARNING!
Keep out of reach of children!
Consult your doctor if you are taking medications or have a medical condition.
Details
Product type
Immunostimulants
Vitamin C
Vitamins and minerals
Barcode (ISBN, UPC, etc.)
733739007001
Complex of fat- and water-soluble forms of vitamin C.