Vitamin C-1000 - 250 tablets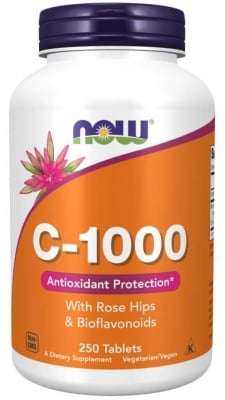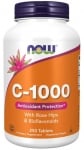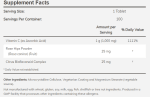 Add to Favorites
Your favourite products
Pack: 250 tablets
Manufacturer: NOW FOODS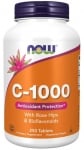 Vitamin C-1000 - 250 tablets
Add to cart
Information
What is vitamin C on the NOW
Vitamin C is one of the most important nutrients in nature.
It is also known as ascorbic acid.
No other vitamin has such a beneficial effect on the human body.
Vitamin C is water-soluble and is indispensable because the body cannot produce it and it must be taken daily.
Vitamin C is an important antioxidant that contributes to the health of the teeth, gums and bones.
Properties of NOW - Vitamin C-1000
Vitamin C aids in the healing of wounds and fractures.
Builds resistance to infections, strengthens blood vessels, aids in iron absorption.
Vitamin C helps in the formation of nitric oxide and the reduction of cortisole levels.
It is also important for the synthesis of collagen, the intrinsic protein segment that maintains the resistance of tissues.
It prevents the transformation of nitrates (cigarette smoke, smog, bacon, some vegetables) into cancer substances.
Usage:
One capsule in the morning with food.
WARNING!
Keep out of reach of children!
Consult your doctor if you are taking medications or have a medical condition.
Details
Product type
Immunostimulants
Vitamin C
Vitamins and minerals
Barcode (ISBN, UPC, etc.)
733739006875
Vitamin C tablets for daily intake by adults