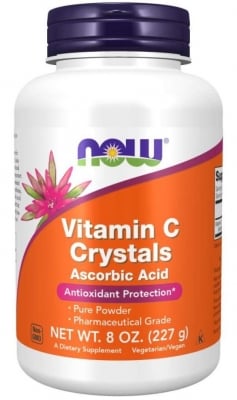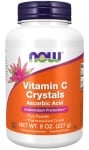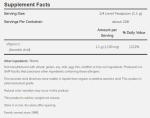 Add to Favorites
Your favourite products
Pack: 227 g
Manufacturer: NOW FOODS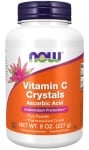 Add to cart
Information
Vitamin C is a water-soluble vitamin.
It is very important for maintaining a healthy immune system.
It is also a very effective antioxidant that can protect the body's cells and cells from damage by free radicals.
Vitamin C helps with:
healing of wounds and fractures
builds resistance to infections
strengthens the blood vessels
helps in iron absorption
helps in the formation of nitrogen oxide
reducing cortisol levels.
In addition, it is important for the synthesis of collagen, the intracellular segment that maintains the resistance of tissues.
It prevents the transformation of nitrates (cigarette smoke, smog, bacon, some vegetables) into cancer causing substances.
Some research suggests that antioxidant vitamins may reduce the risk of some forms of cancer.
Directions:
Take 1/4 teaspoon 1 time daily.
WARNING!
Keep out of reach of children!
Consult your physician if you are taking medications or have a medical condition.
Details
Product type
Antioxidants
Immunostimulants
Vitamin C
Vitamins and minerals
Barcode (ISBN, UPC, etc.)
733739007902
Powerful antioxidant and immunostimulator.