Vitamin D-3 1000 IU & K2 45 mcg - 120 vegan capsules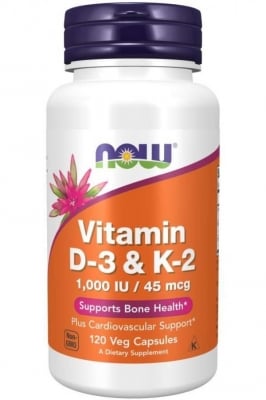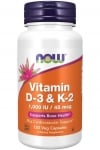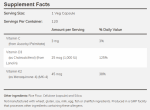 Add to Favorites
Your favourite products
Pack: 120 capsules
Manufacturer: NOW FOODS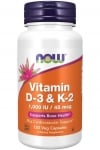 Vitamin D-3 1000 IU & K2 45 mcg - 120 vegan capsules
Add to cart
Information
NOW® Vitamin D-3 dragees deliver this essential vitamin in a highly absorbable liquid form.
Vitamin D is either obtained from food or produced by the skin through the ultraviolet energy of the sun.
However, its availability in food is limited.
As more and more people avoid sun exposure, vitamin D becomes even more necessary to ensure that your body gets enough.
The highest efficiency
Helps to maintain healthy weight
Boosts the immune system
Nutritional support
Vitamin D helps in the prevention of various oncological diseases such as rectal and colon cancer.
One of its most important functions is to regulate the levels of calcium in the colon and to take care of the cell density.
In addition, vitamin D is used in the treatment of rickets, osteoporosis, osteoporosis, eczema, wound and ulcer healing.
Vitamin D is important in heavy physical loads, protein synthesis and ATP production.
Vitamin K2 has been added to the formula and plays an important role in calcium absorption and the strength of the blood cells.
Directions for use:
As a dietary supplement, take 1 capsule 1 to 2 times a day with food.
WARNING!
Keep out of reach of children!
Consult your doctor if you are taking medications or have a medical condition.
Details
Product type
Immunostimulants
Vitamins and minerals
Vitamin D-3
Barcode (ISBN, UPC, etc.)
733739003690
Fat-soluble vitamin proven to raise testosterone levels in men and improve glucose metabolism