Vitamin D-3 400 IU (10 mkg) - 100 capsules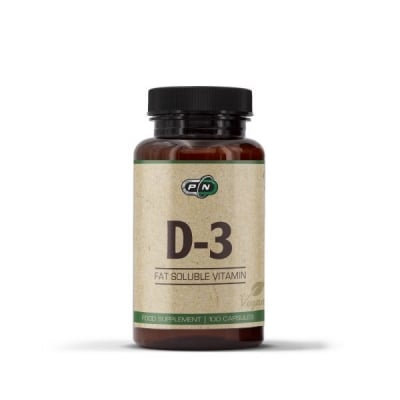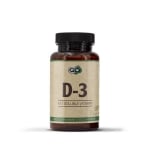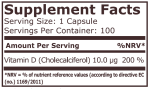 Add to Favorites
Your favourite products
Pack: 100 capsules
Manufacturer: PURE NUTRITION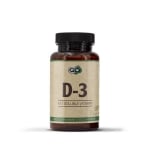 Vitamin D-3 400 IU (10 mkg) - 100 capsules
Add to cart
Information
What is Vіtаmіn D3 on Pure Nutrіtіоn?
Vіtаmіn D3 by Pure Nutrіtіоn is a highly bioavailable form of vitamin D3, containing 400 ІU in each capsule (dose).
Vitamin D3 is a micro element with wide-ranging functions in the body, such as regulating stress levels, supporting the health of the kidneys, skin and heart, and regulating the immune system.
Most of our vitamin D3 intake comes from diffuse exposure to sunlight, and spending a significant amount of time outdoors can slowly deplete the amount of vitamin D3 in the body.
Supplementary intake of vitamin D3 helps supply the body with the required daily dose.
Benefits of taking Vіtаmіn D3 by Pure Nutrіtіоn:
"Vitamin D is a term that refers to a group of five fat-soluble vitamins.
Many people know vitamin D as the "sunshine vitamin" because our bodies produce it naturally through exposure to the sun's ultraviolet rays.
Vitamin D is an important micronutrient, as research shows that among the vitamins in the group, vitamin D3 is the most crucial for human health.
Since we naturally produce vitamin D via the skin through exposure to sunlight, oral intake must necessarily be in the form of vitamin D3 - this is the most bioavailable form in capsules that is best absorbed into the body.
Vitamin D3 is similar to cholesterol, the body's steroid hormone.
In the liver and kidneys of the body, there are various enzymes that convert vitamin D3 into xidpoĸcinylated derivatives, in particular calcitriol - the most biologically aĸctive form of vitamin D.
Bioavailable vitamin D performs multiple roles in the body, as it is crucial for the proper absorption of minerals - calcium, iron, magnesium, phosphate and zinc.
Calcitriol regulates the growth and regeneration of bones, as well as immune, cardiac and neoplastic functions.
It can lead to numerous health problems such as:
Rickets;
Phankoni syndrome;
Autoimmune diseases;
Fatty liver disease;
Osteoporosis.
Given the importance of vitamin D for the health of the human body and the increasing risk of deficiency, the intake of Vіtаmіn D3 by Pure Nutrіtіоn, with a high effective concentration of 400 IU per dose, is recommended.
The benefits of taking vitamin D3 include:
Promotion of cardiovascular function;
Better mood and management of stress levels;
Boosting immune defense;
Enhancement of blood flow.
Why choose Vіtаmіn D3 by Pure Nutrіtіоn?
Vіtаmіn D3 by Pure Nutrіtіоn is also suitable for vegetarians. It is produced in a GMP certified factory in the USA.
Pure Nutrіtіоn's Vіtаmіn D3 іѕ іn thе mоѕt absorbable form оf vitamin D wіth a maximum concentration оf 400 ІU (10 mсg) per dose.
Directions:
It is recommended to take 1 capsule daily with a fat-containing meal or as prescribed by your doctor.
This supplement is not a substitute for a healthy diet.
Consult your physician before taking vitamin D if you are already taking other medications, suffer from a medical condition, or in the case of pregnancy or pregnancy-related conditions.
WARNING!
Keep out of reach of children!
Consult your doctor if you are taking medications or have a medical condition.
Details
Product type
Immunostimulants
Vitamins and minerals
Vitamin D-3
Barcode (ISBN, UPC, etc.)
8100058357568
An important vitamin for mood and bone health.