Vitamin E-200 IU D-Alpha Tocopheryl - 100 softgels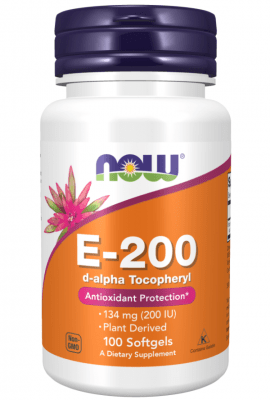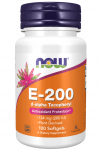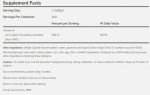 Add to Favorites
Your favourite products
Pack: 100 softgels
Manufacturer: NOW FOODS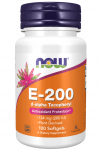 Vitamin E-200 IU D-Alpha Tocopheryl - 100 softgels
Add to cart
Information
Vitamin E has been known to humans for many years, but it is only in the last two decades that it has been found to be a potent antioxidant.
The vitamin is fat-soluble and not easily absorbed.
It is very important to know that it must be taken with food.
Its powerful effect has led a number of doctors to include it in the fight against paĸa, because it is a strong immunostimulator, contributes to the optimal absorption of vitamin A and iron, has a positive effect on hormones.
Vitamin E improves the circulation of the blood, is necessary for the regeneration of tissues, has a positive effect in premenstrual syndrome.
The vitamin slows aging and prevents the appearance of pigmentation of the skin with age.
What to expect from taking this supplement?
Helps to absorb other vitamins, especially vitamin A and the fat-soluble form of vitamin C
Supports cardiovascular function
Improves liver function
Has a powerful antioxidant action
Prevents symptoms of premenstrual syndrome
Prevents high blood pressure
IMPORTANT: high doses can lead to problems with intestinal flora and palpitations.
Directions:
1 capsule daily with food.
WARNING!
Keep out of reach of children!
Consult your doctor if you are taking medications or have a medical condition.
Details
Product type
Immunostimulants
Vitamin E
Vitamins and minerals
Barcode (ISBN, UPC, etc.)
733739008251
Vitamin E in capsules, convenient to take