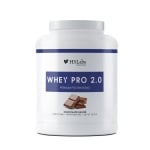 Add to cart
Information
21 grams of protein
Low on fat and carbohydrates
Great taste
Perfect solubility
Whey protein is the most popular nutrient used by athletes in various sports and people with active lifestyle!
Whey protein has a dairy origin, which makes its amino acid profile exceptionally complete.
The number of substitutable and essential amino acids contained in WHEY PRO make it ideal for:
Restoring muscles after workout
Stopping inflammatory processes in the body in the morning after waking up
Muscle mass gain
Nutrition substitute
WHEY PRO is quickly absorbed and helps to maintain a clean muscle mass.
WHEY PRO contains only 118 cal per serving and is an ideal meal replacement during dieting. Do not resort to cravings, satisfy your hunger with WHEY PRO!
Directions:
One serving (30g) dissolved in 200 ml of water or milk
Take in the morning, before, after or between main meals.
WARNING!
Keep out of reach of children!
Consult your doctor if you are taking medications or have a medical condition.
Details
Flavour
Biscuits
Chocolate
Strawberry
Vanilla
Barcode (ISBN, UPC, etc.)
3800234190044
Top quality protein with high protein content