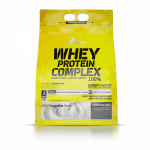 Whey Protein Complex - 2270 g
Add to cart
Information
Undoubtedly, the Whey Protein Complex is capable of satisfying the needs of the most demanding athletes.
This product is not just another low-value, difficult to dissolve and tasteless protein, but the opposite!
In the composition of Whey Protein Complex you will find the most highly coated and dosed sources of protein and a minimum amount of fat and carbohydrates.
With its incredible flavour and easy solubility, it will quickly turn your post-workout shake into an amazing experience.
In one serving of Whey Protein Complex you will find 26 g of protein - whey concentrate and isolate, which will help you to:
faster recovery of the muscle tissue during the workout
reduction of muscle fatigue and readiness for heavy workload after just one day
increase of muscle mass without oiliness
patented CFM® form of the isolate with a low fat content.
Directions:
Depending on your protein needs, you can take between 1 and 3 doses daily - between meals, before and after workout or in the morning after waking up.
Dissolve 1 scoop - 35 g - in 200 ml of water, milk or pasteurized egg white.
Consume immediately after preparation.
WARNING!
Keep out of reach of children!
Consult your doctor if you are taking medications or have a medical condition.
Details
Flavour
Biscuits and cream
Chocolate
Double chocolate
Strawberry
Vanilla
Barcode (ISBN, UPC, etc.)
5901330064029
Protein for increasing lean muscle mass and recovery