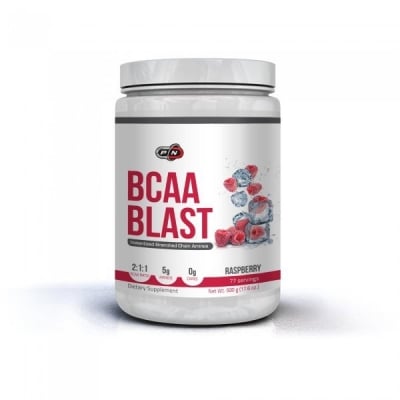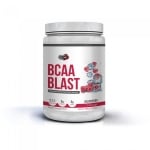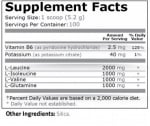 Add to Favorites
Your favourite products
Pack: 500 g
Manufacturer: PURE NUTRITION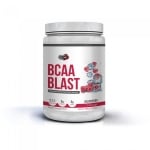 Add to cart
Information
BCAA Blast is a mix of amino acids with a balanced chain and glutamine, which optimize recovery after heavy exercise and physical exertion.
BCAAs are the amino acids that are the most rapidly absorbed by the body and contribute to the greatest extent to the recovery of the muscle.
Benefits of using amino acids
BCAA Blast helps increase protein synthesis and nitrogen retention, two processes that are essential for building lean muscle mass.
Once in the body, the chained amino acids are absorbed into the muscles, which improves recovery processes and eliminates muscle fatigue.
Chain-branched amino acids are essential for the body because it cannot produce them on its own, but must be supplied by food and supplements.
BCAA Blast also contains in its formula added glutamine, an important amino acid that acts synergistically with the chain-branched amino acids and improves the recovery and growth of the muscles.
Ingredients in BCAA BLAST
BCAAs Blast contain chain-branched amino acids in the optimal ratio of 2:1:1 between leucine, isoleucine and valine, the most effective and efficient combination of BCAAs.
This is in contrast to more products on the market that offer unprofitable and ungodly priced BCAAs in capsules or powder form, distinguished by their unpleasant taste, BCAA Blast will make your senses feel a whole new experience with its incredible ingredients that will give you only memorable pleasure from your favourite recovery drink.
Combined with the quality of raw materials and the well-established effectiveness of chain-branched aminos, BCAA Blast will take your results to a whole new level.
How to use:
Take 1 scoop (6.5 grams) dissolved in 250-400 ml of water.
For optimal results, take 1 serving before and after workouts, in the morning and between meals.
WARNING!
Keep out of reach of children!
Consult your physician if you are taking medications or have a medical condition.
Details
Flavour
Cherry
FRUIT PUNCH
Grape
Green Apple
Not flavoured
Pineapple mango
Raspberry
Strawberry
Watermelon
The most popular BCAA formula with added 1 gram of glutamine for fast and quality recovery