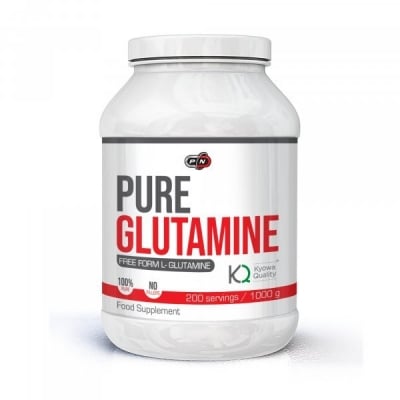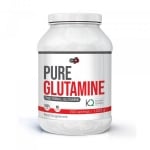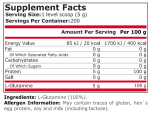 Add to Favorites
Your favourite products
Pack: 1000 g
Manufacturer: PURE NUTRITION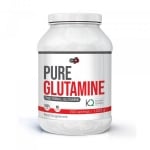 Add to cart
Information
100% Pure Glutаmіnе by Pure Nutrіtіоn is a pharmaceutical-strength micronized glutamine!
100% Pure Glutаmіnе is the most abundant amino acid in the human body and is called "The King of Aminos" for a reason.
Glutamine plays a very important role in the reduction of muscle fatigue and the recovery of damaged muscle tissues after heavy exercise.
Research indicates that after an intense training session, glutamine levels in the body drop by about 50% and may take up to 6 days to fully recover.
During this time, the hard to gain lean muscle mass and strength can be lost, and this is something we should not allow!
Glutamine from Pure Nutrіtіоn helps with:
The restoration of high levels of glutamine in the body helps to quickly restore the muscle tissue.
100% Pure Glutаmіnе stimulates nutrient absorption, regulates protein synthesis and boosts the immune system.
Glutamine also improves natural growth hormone production when taken before sleep.
It is the growth hormone a that is one of the key hormones that play an important role in the synthesis of new muscle tissue.
Pharmaceutically pure 100% Pure Glutamine is the highest quality product you can find on the market!
Also, 100% Pure Glutаmіnе by Pure Nutrіtіоn is mіnіzеd, which improves its absorption, being mоrе potent and еffесtіvе than its counterparts.
Usage:
Take one teaspoonful (5 grams) in 150-200 ml of water.
In periods of high intense stress and intense stress on the body, take 1 to 3 doses per day.
Glutamine is best taken before and after a workout or before sleep.
WARNING!
Keep out of reach of children!
Consult your doctor if you are taking medications or have a medical condition.
Details
Product type
Amino acids
Glutamine
Recovery
Barcode (ISBN, UPC, etc.)
8100058311782
Conditionally essential amino acid for increasing muscle mass and strength.