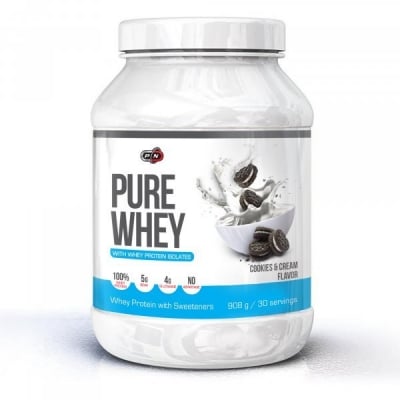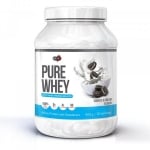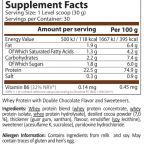 Add to Favorites
Your favourite products
Pack: 908 g
Manufacturer: PURE NUTRITION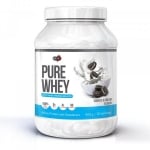 Add to cart
Information
Why choose whey protein?
Whey protein is the form of protein with the highest biological value in nature, which quickly provides the body with the necessary building blocks for the production of amino acids, which are used to build muscle tissues.
This allows the muscles to be fed more fully and to grow more efficiently and quickly.
Whey protein plays an important role as an antioxidant and strengthens the body's immune system.
Why is protein from Pure Nutrіtіоn so good?
Pure Whey is a whey protein blend of whey protein isolate and succinate, with the isolate predominating in the composition.
Whey isolate is the most purified, rapidly absorbed and affordable form of whey protein available on the market.
What's more, in order to be completely perfect in meeting the athlete's needs, Pure Whey is also loaded with whey protein hydrolysate (whey peptides).
Hydrolysis breaks down the peptide bonds of the protein into smaller particles that are absorbed faster than free-form aminos and allow the body to recover faster.
The Whey's formula additionally contains glutamine and BCAAs, which play a significant role in the recovery and growth of muscle cells, while protecting the muscle tissue from degradation.
Why should Whey Pure be present in every diet?
In every single serving of Pure Whey, you can count on 100% fat-free whey protein and minimal fat and carbohydrate content.
We don't want you to give your money for proteins that are filled with unnecessary amounts of sugar, fat or excess fat and other nutrients, the minimal dosage of which would not give the desired result.
Pure Whey contains what you need - pure, fat-free whey protein to optimize post-workout recovery and fill the gaps in your diet.
Pure Whey is dissolving easily and quickly in a shake or cup.
How to use:
Mix 1 serving (30 g) with 200-250 ml of water or milk.
WARNING!
Keep out of reach of children!
Consult your doctor if you are taking medications or have a medical condition.
Details
Flavour
Banana Yogurt
Biscuits and cream
Cappuccino
Caramel
Chocolate Coconut
Chocolate hazelnut
Cinnamon cake
Cranberry buttermilk
Double chocolate
Strawberry milkshake
Vanilla ice cream
Yogurt
Barcode (ISBN, UPC, etc.)
4014871913976
Whey protein for post-workout recovery