Energetic music during and before exercise boosts performance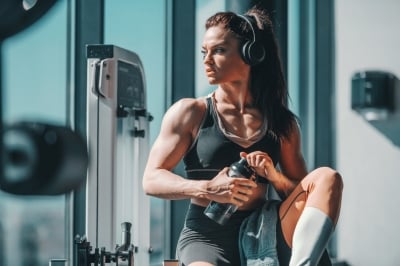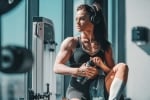 Music has always been an integral part of human culture, offering solace, companionship, and motivation.
Over the years, countless athletes, fitness enthusiasts, and even casual gym-goers have vouched for the power of a pulsating track to elevate their workouts.
There's something unmistakably invigorating about moving to the beat of your favorite song. But is there science to back up the claims?
Do those catchy tunes and energetic beats actually enhance our physical performance?
Let's delve in.
The science of sound and stamina

Research shows that music can act as a potent performance-enhancing drug.
Costas Karageorghis, a recognized expert in the field of sports and exercise psychology, states that listening to music can lead to a 15% improvement in physical performance.
Here's why:
Distraction theory: Music acts as a mental distraction, helping individuals focus less on the fatigue and discomfort of exercise.
Rhythmic response: Energetic beats can synchronize with the pace of the activity, helping maintain a steady rhythm during repetitive tasks like running or cycling.
Mood enhancement: Music can evoke powerful emotions, elevating mood and motivating individuals to push harder.
Picking the right tempo

Not all songs are created equal when it comes to exercise enhancement.
The beats per minute (BPM) of a song play a crucial role:
Low-intensity workouts (stretching, yoga): Opt for tracks with 60-90 BPM.
Moderate exercises (walking, light jogging): A BPM range of 100-120 works best.
High-intensity workouts (sprinting, HIIT): Go for songs with 130-160 BPM or higher.
Pre-workout boost

Playing energetic tracks before a workout session can set the tone for what follows.
Pre-workout music can create a sense of anticipation, increasing adrenaline levels and mentally preparing the individual for the activity.
Anecdotal evidence suggests that athletes often have 'pump-up' playlists to mentally prepare and motivate themselves before competitions.
The limitations

While music is a powerful tool, it's not universally beneficial.
In activities requiring intense concentration, like archery or shooting, music can be a distraction.
Also, it's crucial to be aware of one's surroundings, especially when jogging or cycling outdoors, as overly loud music can obscure vital auditory signals, posing safety concerns.
Individual preferences matter

Remember, the personal relationship one has with a song can influence its impact.
A song that evokes positive memories or emotions will likely have a more significant enhancing effect than an unfamiliar track, even if the BPMs match.
Thus, creating a personalized playlist can be more beneficial than using generic fitness playlists.
Conclusion

Energetic music has undeniable effects on exercise performance, both as a motivator and as a performance enhancer.
Whether you're looking to push through that last mile or seeking some extra motivation to start your workout, the right track can make all the difference.
So, the next time you gear up for a workout, don't forget your headphones and a playlist full of your favorite upbeat tunes!