DIET & ENERGY RIPPED WHEY PROTEIN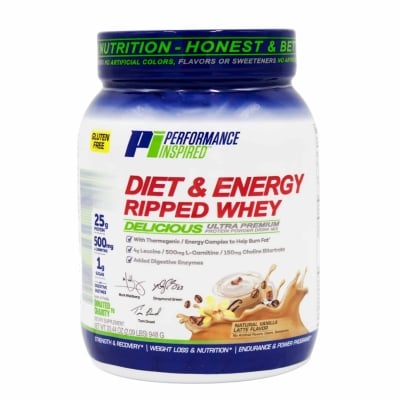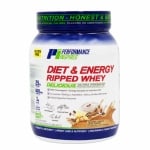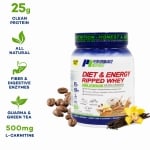 New product
Recommended
Add to Favorites
Your favourite products
Pack: 948 g
Manufacturer: Performance Inspired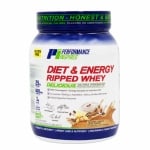 DIET & ENERGY RIPPED WHEY PROTEIN
Add to cart
Information
An extremely delicious, healthy formula from Diet & Energy Whey Protein that is packed with effective and proven ingredients at an amazing price! This high quality protein has as much as 25 grams in a serving of pure protein that you'll love and want to incorporate into your health, wellness and diet program.
Nurture your active lifestyle

Pure protein + added Thermogenic Dietary and Energy Complex with a LARGE amount of 500 mg L-Carnitine, 4 g Leucine, 150 mg Choline Bitartrate and 85 mg Caffeine from natural green tea.
Plus a large amount of digestive enzymes so you get the most out of your protein and don't feel bloated.
With only 1g of sugar, this functional protein formula won't disappoint!
This Diet & Energy Ripped Whey Protein Complex* contains a FULL 25g of protein with added digestive enzymes to help eliminate bloating and improve absorption!
Made with a blend of guarana and green tea and only natural flavors, sweeteners and colors, this high-performance Diet & Energy Ripped Whey Protein formula gives you the toning you need to dominate your workout or just get through your day, helping you avoid the dreaded crash afterwards.
Use between meals to fight off hunger, as a meal replacement or as a pre-workout drink!
This unique whey formula is a best seller and yes, it's Mark Wahlberg's everyday protein!
This stable and popular product is very versatile and can be used anytime to boost your energy, help you reach your diet goals and aid your recovery in the gym.
Many use it as a pre-workout product or as a snack between meals to fight hunger and/or reach their protein maxes.

Mark Wahlberg founded Performance Inspired Nutrition to inspire people to lead more active lifestyles using natural nutritional support products and to serve the community by giving back through charitable giving.
It has seen a void in the market for natural, high-performance, clean and robust nutrition for an active lifestyle at a bargain price. He also notes the need to create products with meaningful, effective formulas that do not use exaggerated claims or unproven ingredients.
PI started with a commitment to providing the everyday person and the die-hard athlete better products with honest marketing that leverages actual customers. The words performance and inspiration fit together perfectly.
Performance Inspired started with a friendship and mutual admiration that has now turned into a partnership that has expanded into other businesses like F45 Gyms and Wahlburgers.
Although Mark is extremely busy, he is very hands-on and involved in every aspect of the brand and is always pushing the team!
Professional athlete Draymond Green got involved early on as an investor, realising there was a void for him and his fellow professional athletes in sports nutrition. We were truly honored to have Marcus Luttrell become one of the early investors and part of PI's growth success.
Marcus is a former member of the U.S. Navy and received the Navy Cross and Purple Heart for his actions in June 2005 against Taliban fighters during Operation Red Wings. Marcus is also the author of the book "Lone Survivor" and Mark Wahlberg plays Marcus in the film version.