Isolate Whey - Performance Inspired Nutrition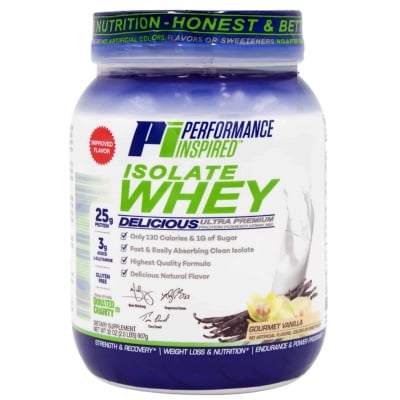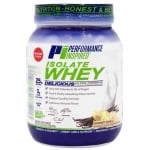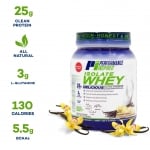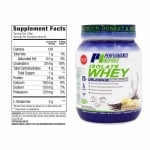 New product
Recommended
Add to Favorites
Your favourite products
Pack: 907 g
Manufacturer: Performance Inspired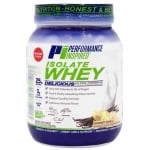 Isolate Whey - Performance Inspired Nutrition
Add to cart
Information
Delicious and natural isolate whey that extremely clean and fast digesting to support muscle growth, faster recovery, diet goals and your overall fitness lifestyle.
The significant 3 grams of L-Glutamine have been added to the product to increase the value and help achieve your fitness goals!
Nurture your active lifestyle

Each serving contains a FULL 25 grams of high quality protein, then adds 3 grams of L-Glutamine with only 1 gram of sugar and 130 calories!
PI's Isolate Whey Protein has a higher protein content per gram and is lower in carbohydrates, lactose and fat.
Plus, you get a whole 5.5 grams of naturally occurring BCAAs in every serving!
One container offers 25-26 servings of quality protein (depending on flavor) that is completely and easily mixed.
The whey protein is sweetened with stevia and other natural flavors to provide you with a clean, gluten-free, fast-digesting and quickly absorbed formula you'll love!
Create amazing smoothies and use them in healthy recipes
Perfect for any keto diet low in sugar and high in protein
25 FULL grams of fast digesting whey protein with low fat, cholesterol and lactose levels
Natural so you don't have to settle for artificial ingredients - because natural is better
You'll start telling everyone how much you love PI products!

Mark Wahlberg founded Performance Inspired Nutrition to inspire people to lead more active lifestyles using natural nutritional support products and to serve the community by giving back through charitable giving.
It has seen a void in the market for natural, high-performance, clean and robust nutrition for an active lifestyle at a bargain price. He also notes the need to create products with meaningful, effective formulas that do not use exaggerated claims or unproven ingredients.
PI started with a commitment to providing the everyday person and the die-hard athlete better products with honest marketing that leverages actual customers. The words performance and inspiration fit together perfectly.
Performance Inspired started with a friendship and mutual admiration that has now turned into a partnership that has expanded into other businesses like F45 Gyms and Wahlburgers.
Although Mark is extremely busy, he is very hands-on and involved in every aspect of the brand and is always pushing the team! Professional athlete Draymond Green got involved early on as an investor, realising there was a void for him and his fellow professional athletes in sports nutrition. We were truly honored to have Marcus Luttrell become one of the early investors and part of PI's growth success. Marcus is a former member of the U.S. Navy and received the Navy Cross and Purple Heart for his actions in June 2005 against Taliban fighters during Operation Red Wings. Marcus is also the author of the book "Lone Survivor" and Mark Wahlberg plays Marcus in the film version.