24 Ironclad Laws Of Eating For Muscle: Your Ultimate Guide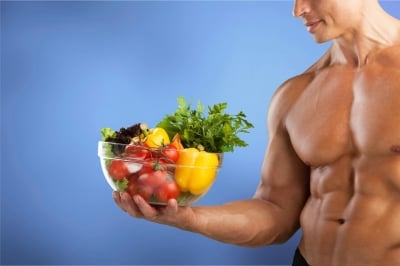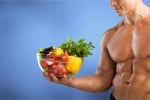 Are you tirelessly pumping iron but not seeing the muscle gains you're yearning for?
It's time to turn your attention to the fuel you're providing your body.
Building muscle isn't just about what happens in the gym – it's also about what happens in your kitchen.
We present to you the "24 Laws of Eating for Muscle," a powerful guideline optimized to boost your nutrition strategy and maximize muscle growth.

1. Tip The Scales
The golden rule of muscle building is creating a caloric surplus—eating more calories than you burn. To tip the scales in favor of muscle gain, focus on nutrient-dense calories that provide the building blocks for muscle growth. This means prioritizing whole grains, lean proteins, healthy fats, and vegetables. Keep in mind that the surplus should be moderate; too many excess calories can lead to unwanted fat gain. Gradually increase your intake and monitor your body's response to find the perfect balance.
2. Assess And Grow
What separates those who make steady gains from those who don't is often their attention to detail. Regular assessment of your progress acts as a crucial feedback loop. By keeping a nutrition diary and monitoring your body composition, you can make informed decisions about dietary adjustments. It's not just about increasing calories blindly, but refining your intake based on how your body is responding in terms of muscle growth and fat levels. Be patient and consistent with these assessments to truly understand the impact of your diet on your muscle-building journey.
3. Eat More Meals More Often
Eating more frequently can boost your metabolism and provide a constant source of nutrients to your muscles, aiding in repair and growth. This approach means consuming meals every 3-4 hours, which can stabilize blood sugar levels and maintain a positive nitrogen balance crucial for muscle synthesis. Plan each meal to include a balanced mix of proteins, carbohydrates, and fats to ensure that your body has all the necessary components for muscle building throughout the day.
4. Protein Counts
Protein is the cornerstone of muscle repair and growth. The amino acids found in high-quality protein sources act as the building blocks for new muscle tissue. Aim to include a source of lean protein with every meal and snack. The goal is to consume around 1 gram of protein per pound of body weight daily, but this can vary based on individual needs and fitness goals. Opt for varied sources like poultry, fish, lean red meat, eggs, and plant-based options such as lentils and tofu to cover the full spectrum of essential amino acids.
5. Eat Clean
Clean eating is about choosing whole, minimally processed foods that nourish your body and support muscle growth. It emphasizes the quality of the calories you consume, which should be rich in vitamins, minerals, and antioxidants. These nutrients are not just vital for overall health; they also assist in muscle recovery and strength gains. Avoiding additives, preservatives, and high levels of sugar and salt can also help reduce inflammation and improve body composition, ensuring that the weight you gain is more muscle than fat.

6. Whole-Food Proteins
While protein supplements are convenient, whole-food proteins come with a spectrum of nutrients essential for muscle health and overall wellness. Foods like chicken, fish, beef, and plant-based options such as beans and lentils not only pack a protein punch but also provide vitamins and minerals that aid in recovery and muscle function. For instance, the iron in red meat helps with oxygen transport in the blood, vital for muscle endurance, and the omega-3 fatty acids in fish can reduce muscle soreness and enhance recovery.
7. Measure Your Intake
Measuring your macronutrient intake ensures you're consuming enough protein, carbohydrates, and fats to meet your muscle-building goals. It's about precision and understanding how much your body needs to support your training regimen and muscle growth. Use digital food scales, measuring cups, and nutrition tracking apps to keep an accurate record. Over time, this practice can also help you better estimate portion sizes and make more informed choices when eating out or on the go.
8. Fix It Right
How you prepare your food can be just as important as what you eat. Cooking methods like grilling, baking, and steaming preserve the nutritional quality of foods and avoid the addition of excess fats from oils or butter that are often used in frying. Preparing your food in these ways can enhance the natural flavors of ingredients without unnecessary calories, allowing you to enjoy the taste of your meals while sticking to your muscle-building diet plan.
9. Don't Fear Saturated Fat
Saturated fat has been much maligned, but it's essential for optimal hormonal function, including the production of testosterone, which is crucial for muscle growth. Include sources of saturated fats like eggs, dairy, and certain cuts of meat in moderation. The key is balance—saturated fats should be a part of a varied diet that also includes mono- and polyunsaturated fats from sources like nuts, seeds, avocados, and fish to ensure a healthy lipid profile.
10. Consume Liquid Calories
For those struggling to meet their caloric needs, liquid calories can be an effective strategy to create a surplus without feeling overly full. Smoothies and shakes are excellent for packing in calories and nutrients on the go. By blending fruits, vegetables, protein powder, and healthy fats like nut butter or avocado, you can create a calorie-dense drink that's not only convenient but also highly nutritious and conducive to muscle gain.

11. Ignore Your Sweet Tooth
Managing sugar intake is vital in a muscle-building diet. While the occasional sweet treat is unlikely to derail your efforts, consistent consumption of sugar can lead to an energy imbalance, unwanted fat gain, and mood fluctuations which could impede your workout performance. Instead, satisfy your sweet tooth with naturally occurring sugars found in fruits and dairy. These foods offer the sweet taste you crave along with essential nutrients and fiber, which can aid in digestion and provide a more sustained energy release.
12. Cheat To Win
Strategically planned cheat meals can be an asset to your muscle-building diet by helping to boost your metabolism and satisfy cravings, potentially making it easier to stick to your diet in the long run. The key is to plan these indulgences wisely—rather than impulsive overeating, a cheat meal should be something to look forward to, enjoyed in moderation, and fit into your overall caloric intake for the week. This strategy can help prevent feelings of deprivation and binging, keeping you on track with your muscle-building goals.
13. Choose Slower Carbs
Carbohydrates are crucial for muscle energy, but the type of carbs you choose can have a significant impact on your body composition and energy levels. Opt for complex, slow-digesting carbohydrates like sweet potatoes, brown rice, and oatmeal. These provide a steadier source of energy, keep blood sugar levels stable, and help you feel full and satisfied. They also supply your body with the necessary fuel to support recovery and growth without the insulin spike that comes with high-glycemic carbs.
14. Speed It Up Post-Workout
The post-workout meal is critical in your muscle-building journey. After depleting your glycogen stores during a workout, consuming fast-digesting carbohydrates along with protein can help speed up recovery by rapidly replenishing glycogen and increasing insulin levels, which in turn helps shuttle nutrients into your muscle cells. Options like white rice, ripe bananas, or even a dextrose-containing supplement can be effective in this window of opportunity to optimize muscle repair and growth.
15. Dine Out With Discretion
Eating out doesn't have to mean sabotaging your muscle-building efforts. When dining at restaurants, it's essential to make smart choices. Look for menu items that align with your nutritional goals, such as grilled fish, lean steak, or chicken, accompanied by steamed vegetables and whole grains. Don't hesitate to request modifications—such as having sauces served on the side or swapping out fries for a salad—to ensure your meal supports your muscle-building objectives.

16. Bring Order To Your Orders
When ordering food, whether it's from a restaurant or meal prep service, prioritize your muscle-building goals. Look for dishes rich in proteins, complex carbs, and healthy fats, and order meals in a way that aligns with your nutritional needs. Be specific with your order to avoid ingredients that are counterproductive to your diet, and don't shy away from asking how the food is prepared. Opting for baked, broiled, or steamed options over fried is a small decision that can make a significant difference in your diet quality.
17. About That Fast Food Meal
While fast food is convenient, it's rarely conducive to a muscle-building diet due to high-caloric meals often loaded with unhealthy fats and simple carbs. If you're in a pinch, look for the healthiest options available—grilled chicken sandwiches (without the mayo), salads with lean proteins (watch the dressing), and avoid upsizing your meal. Always opt for water or unsweetened iced tea instead of sugary sodas. Making these smarter choices can help you stay on track, even when you're short on time and options.
18. Eat A Pre-Bed Snack
Feeding your muscles before bed can help stimulate muscle repair and growth overnight. Opt for a snack that's high in protein and contains some healthy fats, which can slow digestion and provide a steady release of amino acids while you sleep. Casein protein, found in dairy products like cottage cheese or a casein protein shake, is an excellent choice due to its slow-digesting properties. This practice can make a significant difference in your muscle recovery and growth, ensuring you're building muscle around the clock.
19. Creatine Boosts Metabolism
Supplementing with creatine can not only enhance your performance during high-intensity workouts but also may help increase your metabolic rate. By improving your overall training performance, creatine enables you to work out harder and build more muscle, which can naturally boost your metabolism. Adding a creatine supplement to your diet can be a game-changer, particularly during resistance training, as it helps replenish your muscles' energy stores more rapidly.
20. The Three Amigos
For muscle building, the 'three amigos' of macronutrients—proteins, carbohydrates, and fats—are essential. Protein supports muscle repair, carbohydrates provide energy, and fats play a key role in hormone production. It's crucial to not only include all three in your diet but also find the right balance that works for your body and your training regimen. Tailoring the intake of these macronutrients to your workouts and recovery needs can optimize muscle growth and ensure your body has the necessary resources to perform and improve.

21. Boost Blood Flow
Optimizing blood flow is key for delivering the nutrients your muscles need to grow and recover. Foods rich in nitrates, like beets and leafy greens, can enhance vasodilation, improving blood flow and oxygen delivery to the muscles. Additionally, antioxidants found in berries and dark chocolate can protect blood vessels, promoting better circulation. Including these foods in your diet can support your muscle-building efforts by ensuring efficient nutrient delivery and waste removal from muscle tissues during and after intense workouts.
22. Never Miss A Meal
Consistency is crucial in a muscle-building diet. Skipping meals can hinder muscle growth by failing to provide your body with a steady stream of nutrients necessary for recovery and growth. Plan and prepare your meals ahead of time to ensure you have quick, healthy options available, so you're not tempted to skip a meal when life gets busy. If you're in a situation where you can't eat a full meal, have a high-protein snack, like a handful of nuts or a protein bar, to tide you over until you can eat more substantially.
23. Make Time For A Good Start
Breakfast sets the metabolic tone for the rest of the day and kick-starts your muscle-building process. Including a solid source of protein along with complex carbs and healthy fats can provide sustained energy and essential nutrients after the overnight fast. Think of breakfast as the foundation for your day's nutrition; making time for a good start can lead to better performance in your workouts and throughout your daily activities.
24. Sleep For Gains
Never underestimate the power of sleep in the muscle-building equation. Quality sleep is a cornerstone of muscle recovery, growth, and overall health. During sleep, your body releases growth hormone, which helps to repair and build muscle tissue. Aim for 7-9 hours of uninterrupted sleep per night to ensure your body has the time it needs to perform these vital functions. A pre-bedtime routine that promotes relaxation and a sleep-conducive environment can go a long way in supporting your muscle-building goals.
By faithfully following these 24 laws of eating for muscle gain, you're equipping your body with the essential tools and nutrients it needs to maximize strength and muscle hypertrophy.
Muscle growth is a process that requires consistent effort and patience—it's a gradual progression that doesn't happen overnight.
It's essential to stay the course and remember that minor tweaks and adjustments to your diet and lifestyle are necessary as your body changes and your needs evolve.
Tailor these nutritional principles to align with your unique metabolic demands, workout intensity, and recovery rates.
With dedication to these tailored guidelines, you'll steadily march toward your muscle-building goals, transforming your physique and enhancing your performance.