What Happens to Your Body if You Take Creatine Every Day: A Focus on Athletes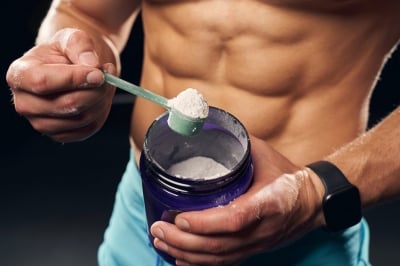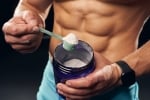 Creatine is a naturally occurring compound that plays a pivotal role in rapid energy production during short, intense bouts of physical activity.
While it's present in certain foods like red meat and fish, creatine is also commonly consumed as a dietary supplement, especially by athletes and bodybuilders.
If you've ever wondered about the effects of daily creatine intake on the body, especially for athletes, read on.
The Basics of Creatine


Creatine is stored in the muscles as phosphocreatine and is used to quickly produce energy (in the form of adenosine triphosphate or ATP) during high-intensity, short-duration activities like sprinting or weightlifting.
By supplementing with creatine, one can increase the stores of phosphocreatine in the muscles, potentially improving performance in these types of activities.
The Effects of Daily Creatine Intake


Increased Muscle Mass: One of the most notable effects of creatine supplementation is an increase in muscle mass.
This isn't just due to water retention, as was previously believed.
Creatine has been shown to boost the levels of certain hormones that promote muscle growth, and it may also increase the number of satellite cells, which play a crucial role in muscle repair and growth.
Improved Exercise Performance

Athletes, especially those in sports that require short bursts of power, often report improved performance when taking creatine regularly.
Numerous studies have backed this claim, showing enhanced performance in high-intensity, short-duration activities.
Faster Recovery

There's evidence to suggest that creatine supplementation can reduce muscle cell damage and inflammation following exhaustive exercise, leading to faster recovery and decreased muscle soreness.
Brain Health

Emerging research suggests that creatine might have benefits beyond the muscles.
It appears to have neuroprotective properties, potentially playing a role in preventing neurodegenerative diseases.
Athletes prone to concussions or other forms of traumatic brain injury might particularly benefit from this aspect of creatine.
Water Retention

When starting on creatine, many individuals experience an increase in water weight.
This is because creatine pulls water into the muscle cells.
While this might cause a temporary increase in body weight, it's generally not a cause for concern and can even be beneficial for muscle growth.
Potential Concerns with Daily Intake

Kidney and Liver Health
There's been some concern about the effects of creatine supplementation on kidney and liver function.
However, current research indicates that creatine supplementation does not damage these organs in healthy individuals.
Nonetheless, those with existing liver or kidney issues should consult a physician before beginning supplementation.
Digestive Issues

Some people report stomach cramping, diarrhea, or nausea when taking creatine, especially in larger doses.
It's often recommended to split the dosage or opt for micronized creatine, which may be easier on the stomach.
Drug Interactions

Creatine might interact with certain medications, including NSAIDs, diuretics, and others.
It's essential to consult with a healthcare professional if you're on any medication.
Recommendations for Athletes

For athletes considering creatine supplementation:


Loading Phase: Some athletes choose to start with a "loading phase" of 20 grams per day (split into 4 doses) for 5-7 days, followed by a maintenance dose of 3-5 grams per day.
However, this phase isn't strictly necessary, and one can simply start with the maintenance dose.


Stay Hydrated: Given the increased water retention and the importance of hydration for muscle function, it's crucial to drink plenty of water while supplementing with creatine.


Consult Professionals: Always check with a sports nutritionist or physician before starting any new supplementation.
Conclusion


Daily creatine intake can offer several benefits to athletes, especially those involved in high-intensity, short-duration sports.
From increased muscle mass to improved performance and recovery, the advantages are well-documented.
However, as with any supplement, it's essential to use creatine responsibly and stay informed about potential side effects or interactions.